Fire Extinguishing




Systems



Fire Suppression systems are utilised to extinguish or prevent of the spread of fire within a building.
Protecting Businesses
Nationwide

Know Your Fire Extinguisher



Class A: Fires from paper, wood and other consumables that leave behind ash.
Class B: Fires by the presence of flammable liquids, such as oil and gasoline.
Class C: Fires are the result of Electrical Equipment.
Class D: Fires when flammable metals burn.
Class F: Fires from the Kitchen, that involve cooking oil and grease.
Fire Detection & Alarms
The ZX5Se is an intelligent analogue addressable fire alarm control panel. It has been designed and is constructed around proven and reliable microprocessor technology. This simple approach has produced a modular, scalable fire alarm platform suitable for protecting all types of premises. The ZX5Se control panel supports a total of five industry leading protocols, allowing fire detection devices to be independently selected based on performance or aesthetic appeal. The ZX series control panels seamlessly integrates with Apollo (Xplorer, XP95 & Discovery), Hochiki ESP, Nittan, Morley-IAS and System Sensor detection device protocols.
Fire Extinguishing Systems
CUBE Fire and Security 'Clean Agent System' partner and utilise the FM-200 system to suppress the fire. The FM-200 system is non-corrosive, environmentally friendly and leaves no residue. It is ideal for preventing business interruption and the loss of high value and sensitive materials.
Fire Extinguishers
Fire extinguishers are an 'active' fire protection device utilised for the initial management of fires in an emergency. Fire extinguishers are categorised by the substances that they contain and by the class of fire.
Extinguishers are rated for use against only certain kinds of fires and are identified by an 'ABCD marking' which indicate the classes of fire against which they can be safely operated and utilised. The following table outlines the uses for the relevant class of fire extinguisher.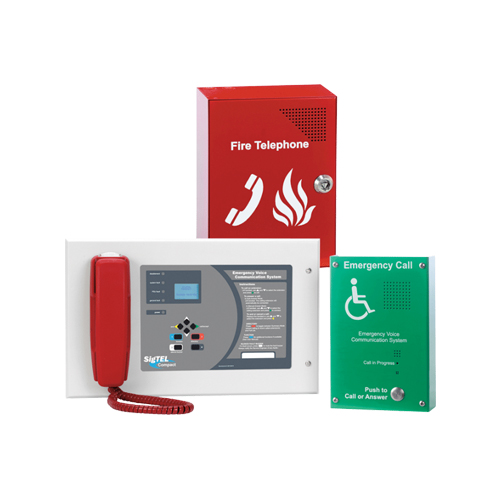 Disabled Refuge Systems
CUBE Fire and Security partner and utilise with the SigTEL Compact 4-64 line emergency voice communication system which is ideal for use in all disabled refuge and fire telephone applications.
In disabled refuge applications, it provides people who cannot easily evacuate a building a method of communicating with a central control point during a fire emergency. In fire telephone applications, it also allows building management and the emergency services to communicate with each other before, during and after a fire.
Emergency Lighting
IS 3217:2013 relates to the provision of electric 'Emergency Lighting' for most non-domestic premises. The standard provides detailed requirements for the clear indication and safe illumination of emergency escape routes, along with specific requirements around the functional operation of 'Emergency Lighting', if normal building lighting fails to operate.
NURSE CALL – QUANTEC
CUBE Fire and Security partner with and utilise the Quantec addressable call Systems. The Quantec addressable call system represents 'robust' and 'state of the art' communication application, in call communication equipment. The system is a powerful, yet easy to use, addressable call system that places the needs of its users (patients and staff) and the installer first.
Service & Maintenance
CUBE Fire and Security Service Agreement
CUBE Fire and Security is one of the leading maintenance companies for the Fire Detection and Supression in Ireland.
CUBE Fire and Security maintain the newest equipment for fire detection & Fire  extinguishing equipment managing perfect solution of your systems and compliance with the fundamental regulations.